The best thing about Android is the cool apps. You can get an app for anything; you name it you got it. And most of these cool apps are absolutely free and excellent to use. There are Android apps that will keep your health and fitness schedule right, there are apps which can solve hard-core calculus for you. There is no sector where there are no free Android apps to help you out. So let us explore the best of best's top 10 Android apps available free of cost.
Do Read: How to Download APK Android Apps from Google?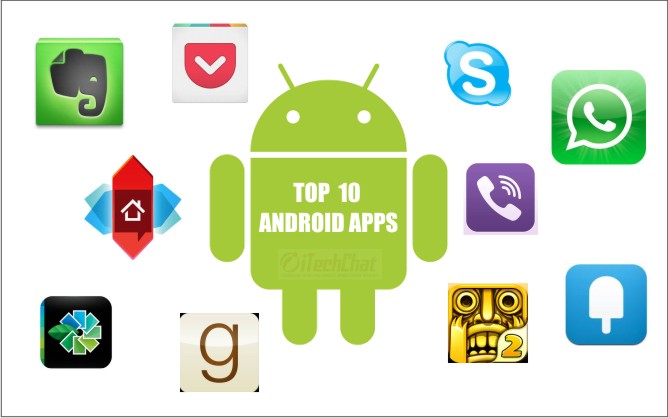 Top 10 Android Apps
#1 Evernote
This is a very useful and handy app for Android that helps you to remember all the things in your daily busy schedule. Evernote helps you by taking notes, creating to-do list, capturing photos and by recording voice reminders also. All these notes are easy to search and help you whether you are at work, home or while you are travelling.
Checkout: 5 Business Apps for Entrepreneurs
#2 Pocket
Suppose you are in a rush and you don't have time to waste your precious time reading or viewing something which is very interesting on the web. If you comacross anything very interesting and don't have the time to view it then don't be disappointed this free Android app will come to your rescue. If you have pocket in your Android phone all you got to do is save those internet content and later you can go through that particular web page even if you are not connected to the internet.
#3 Nova Launcher
You can find several home screen replacement apps at Google Play Store but Nova Launcher is a distinct one. It can be customized as you wish to. It is a great home screen replacement for Android and features colour themes which is also customizable.
#4 Goodreads
If you love reading then this is the most useful free Android app you can ever have in your phone. Through Goodreads you can read hundreds of book reviews and helps you keeping a virtual book shelf where you can save the books you are going to read, basically it is a type of social networking site for readers. Presently it has more than 8,500,000 members and about 300,000,000 books in it.
Do Read: 5 Best TV Based Mobile apps
#5 WhatsApp Messenger
It is a growing messenger app for smartphones. It is good alternative for SMS and you can message your friends and family with this cool messenger. It uses Wi-Fi or internet for sending messages. You can also send video clip, music files, voice recordings, images through WhatsApp. This is an amazing free Android app and is a must have for those who want to be connected all the time.
#6 Viber
This Android app allows you to call, send text and send video messages or photos across the globe worldwide absolutely free. Currently Viber has over 250 million users. It is available for iPhone, Blackberry and Windows Phone also. The app is able to sync with your contact list and automatically shows who has Viber connected with their mobiles.
#7 Skype
This free Android app is the most popular one for video calling and that too absolutely free of cost. You can make a video call to anywhere in the world if they are connected with Skype. It is supported in other smartphone platforms also.
Checkout: 5 Must Have Social Media Apps
#8 Temple Run 2
This is the best game app for Android it will make your time fly. It is a very interesting game with cool graphics and a wonderful game play. You have to pass through various types of obstacles and will make you occupied for hours. It is fun filled and you can make the character in the game jump, slide, and turn through its route. It is must have for fun lovers and those who want something interesting to pass their free boring time.
#9 Fancy
It is a great place to shop and if you want to gift something creative Fancy will help you do that. You can explore some awesome goods, amazing places and wonderful stores through Fancy.
#10 Snapseed
If you are impressed with Instagram then check this out; it is a more advanced photo editing tool for your phone. It allows your ordinary photo to transform to a magnificent one. This transformation is just some clicks away and you will able to experience the fun and excitement of converting an ordinary photo to an extraordinary one. You can also share your transformed pictures with your family and friends through Snapseed.