TV based apps have the power to convert your mobile device into a virtual TV, bringing you your favorite shows, helping you discover new ones, and allowing you to socially share your TV experiences. There are a lot of TV based app choices out there, so we've narrowed it down to the 5 best ones out there for you to check out.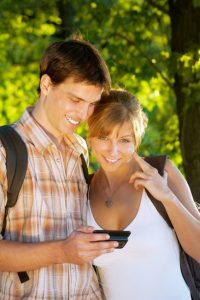 Checkout: Top 10 Android Apps
1. HuluPlus ($7.99/month)
About the App: The original Hulu lets you watch TV, films and videos any time in your web browser, but HuluPlus takes it to another level. The HuluPlus app allows subscribers to view any of the eligible TV shows and movies right on their mobile device.
What Makes it Great: Unlike some would-be competitors, HuluPlus features many recently aired shows and new release movies, and you can even watch full current seasons of selected shows. If you'd like to check it out before you buy, HuluPlus offers a one week subscription for free.
Compatible With: iPad, iPhone, iTouch, and Andriod devices
About the App: Simply put; Crackle offers unlimited access to thousands of TV shows and hundreds of movies at no cost to you. New content is added regularly and most of the features you can find on Crackle's web version are also offered with the Crackle app.There are some advertisements that you have to get through, but 30-second video ads are worth sitting through to get all of this content for free.
What Makes it Great: It's neat that Crackle offers up some original programming and remembers where you left off if you have to stop watching your favorite show mid-stream.
Compatible With: iPad, iPhone, and iTouch
Do Read: How to Download Android APK Apps?
About the App: You might be able to guess what this TV app is all about. The Seinfeld app is packed with over 1,300 trivia questions about "Seinfeld," as well as quizzes and quotes. And you can read brief summaries of each season and episode. If you're looking for a cheap, fun TV app to please the masses, invest your spare change in the Seinfeld Fan App.
What Makes it Great: The app covers all nine seasons and features comical caricatures of the cast.
Compatible With: iPad and iPhone
About the App: "Time Magazine" even named IntoNow the "Best Smartphone App of 2011" and for good reason. While watching TV, simply activate your IntoNow app to get instant information about the episode you're watching. This app will make suggestions about other shows you may like based on what you're currently watching, give you information about the actors in the show, and allows you to share your TV viewing habits with your social network on Facebook and Twitter. You can even get alerts if they're watching the same program. You can also use this app to give you information about movies you're watching.
What Makes it Great: IntoNow has the ability to work with streaming services like HuluPlus and even rented shows from Apple and Amazon.
Compatible With: iPad, iPhone, iTouch, and Android devices
Checkout 5 Business Apps for Entrepreneurs
About the App: TV.com features full episodes from CBS and other Viacom-owned networks like The CW, Showtime, CNET TV, CBS Sports and more. If you don't have time to finish an entire show in one sitting, this app allows you to start it again where you left off. The shows are not commercial free, but many consider it worth the wait to access their favorite shows for free.
What Makes it Great: The wide variety of programs available and lack of subscription fees make this app a great choice to get your favorite shows from Viacom networks.
Compatible With: iPad, iPhone, iTouch, and Andriod devices
What is your favorite TV app?
Author Bio:
Andy has lived in several different areas of the United States, but always calls Utah home. He wrote articles for a local paper about outdoor recreation with pets before joining the USDish team in 2010. When he is not watching outdoor adventure programs on Animal Planet, The History Channel, or The National Geographic Channel, Andy can be found hiking in the red rock deserts of the Southwest.