We live in a busy world where everything should be still done right in spite of our schedules. So people have increasingly been turning to their mobile apps when engaging in social media. People have also becoming more mobile and they use their smartphones to connect to the online world. Smartphones now-a-days are not counted as a mere luxury but as a necessity.
Apps are used to remind us of our daily tasks, monitor our expenses, know product recommendations and note everything there is to track. With a click of a finger, we get to be connected with everyone online. Here are the top five must have social media apps for your smartphone: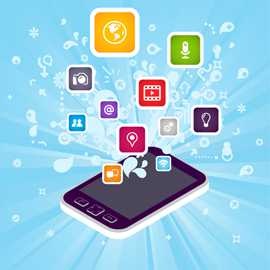 1. Facebook
Facebook was launched in 2004 and since then has gained worldwide stardom. It is the top social networking site from around the globe. Aside from daily communications with your friends and posting the latest happenings in your life through status messages, photos, videos and all other stuff that can be posted through the web-based Facebook site, you also get to know and reach out to your acquaintances, long-lost relatives. At the same time, you can be updated with your network's life events.
As for the business side, you get to market using this platform for free. If you're a consumer, you can share promotions with your contacts and together enjoy freebies from marketers.
Adding Facebook in your list of social media apps in your phone brings in these benefits. If you don't have an account yet on Facebook, create one now. Signing up is easy. So there is no reason why you should not join in this loop of fun.
Become a fan of iTechChat on Facebook
2. Twitter
Another ultimate way to connect with your friends by the second is via Twitter. The Twitter mobile app allows you micro-blog with 140 characters or less. It gives you access the latest tweets of your friends, your circle, and even personalities and celebrities you follow. Instantaneously, you can compose, re-tweet, and "favorite" tweets, letting you manage your time spent in participating in social media well.
Instead of sending your online colleagues SMS which require fees, you can just tweet them and get their response in Twitter. You can set your profile to private and only permit your personal network to read your tweets.
If you are a marketer, you can post promotional messages and interact with followers anytime of the day and wherever you are with the Twitter mobile app. Set your profile to public and you can be subscribed to and increase your fan base.
 3. Google+
Seen as a combination of Facebook and Twitter, Google+ actually provides a refreshing twist on the social media arena. It works by adding people to different circles and then allowing access to your updates only to selected circles. So you can have a fine line between your personal friends, business colleagues, customers and relatives. If you have the Google+ mobile app, you can also access other Google apps such as Gmail and Gdocs.
4. LinkedIn
An under rated smartphone social media app is LinkedIn. LinkedIn is not only good for you if you're hunting jobs; it also keeps your individual profile look good in the professional scene. In LinkedIn, you can join several groups and forums where you learn the best practices and news from other organizations.
The app also allows you to connect to six-degree networks, so if you are a business owner, LinkedIn is beneficial to having your real-world balance presence extending to more people belonging to the same community.
 5. WordPress
If you are a blogger and if your blog is running with WordPress, you'll love the WordPress for mobile app. Blogging using the original web version is not as convenient as using this app intended for mobile users. Sure there are others which you can use to post blog updates, but this is really the best in the market. It is also by far the most user-friendly! By using the WordPress app, you can constantly update your readers with your journey and adventures.
Conclusion
As a mobile individual, having all the available social media tools at your disposal is a must. Logically, people should be equipped with a range of effective apps to maintain their reach and shout out their voices in online mainstream. For starters, have your devices be on-boarded with these apps and explore other essential apps in the App Store or Google Play later. Next time maybe you can have your own list of must-haves that you can share to the world.