Do you own a smartphone? Are you a football fan? If your answer to both these questions is a "Yes", then you have been lucky in reaching this place. In this blog post, I'm covering top 6 smartphone apps that are tailor-made for football lovers of all age groups. I promise you by the end of this blog, you'll have become all geared up for experiencing the extensive features of these smartphone apps that are a must-have for every football enthusiast. So, without further adieu, let us get to know about these six finest smartphone apps for football lovers.
Do read: How Mobile phones are taking over the World
Sky Sports Live Football SC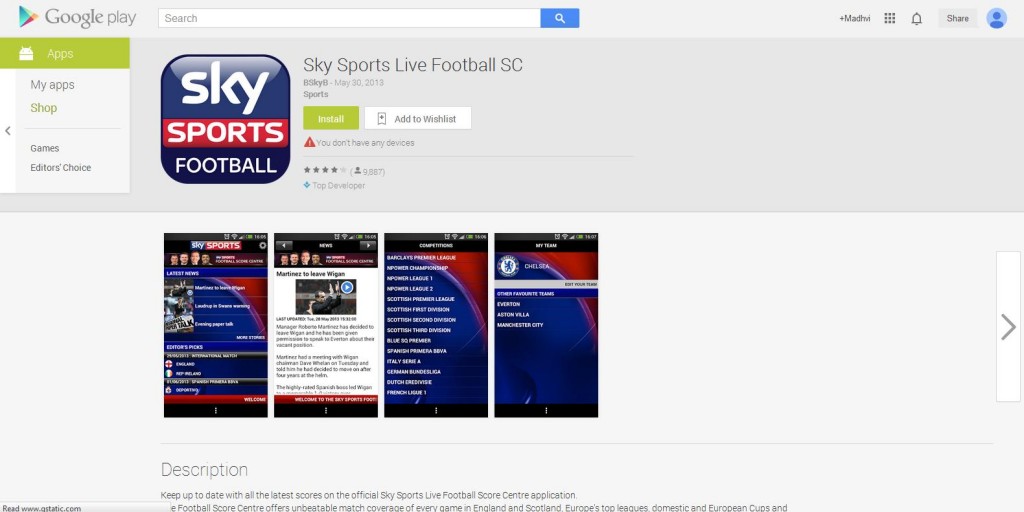 Sky Sports Live Football SC is an excellent smartphone app, which offers all the latest football statistics, scores, penalties, lineups etc. with a single swipe of your finger. By installing this app, you can easily view your favorite football team's progress during an ongoing football match. You'll get the feeling of watching a football match live in the stadium. Additionally, you can also gain an easy access to various other football matches that are being aired on Sky Go or Now TV networks. Sky Sports Live Football SC app is compatible with iOS, Android and BlackBerry. You need not pay even a single penny to download and install this smartphone app.
New Star Soccer

New Star Soccer is an excellent app that not only lets you play the game of football but also renders you the experience of living the life of a football superstar. By playing and winning various football matches using this smartphone app, you can attain a good count of football fans. Equipped with numerous tweaks and difficulty adjustments, New Start Soccer is definitely a must-have for every Football lover with an iOS and Android enabled smartphone.
Flick Kick Football

Flick Kick Football is one of the best free kicking football apps available in the market. With no full football game content and difficulty options to choose from, Flick Kick Football app allows you to empower, curl and twist your football shots. The tremendous mobile compatibility of this app makes it a must-have for everyone who loves the game of football. Game modes available with this smartphone app include time challenge, practice, bulls-eye and skill-shot. Flick Kick Football app is compatible with iOS and Android smartphones.
Do read: Top 10 Android Apps
Score! World Goals

Score! World Goals is an excellent football app that allows you to recreate over 400 of your favorite goals (domestic and international football leagues) in a unique game puzzle. This smartphone app includes official goal packs from Liverpool F.C., Real Madrid C.F, A.C. Milan, Arsenal F.C. etc. As a super natural game play, Score! World Goals comes loaded with an entire field of challenges to challenge the best football player. Amazing graphics and sound effects of Score! World Goals are all-set to offer you an ultra-realistic experience of playing a live football match. This app is compatible with Android and iOS mobile operating systems.
Adidas Snapshot

Adidas Snapshot app is an excellent smartphone app that lets you analyze how fast you can kick a football. As an excellent football tracking software, Adidas Snapshot records your kicks and allows you to share the same with your friends and family. You may even choose to compare your kicks with some of the finest football players from all over the world. As a free app, Adidas Snapshop is compatible with iOS only.
Sun+ Goals

Installing Sun+ Goals app in your smartphone allows you to gain an instant access to goals and highlights from every Barclays Premier League, Rangers match and Scottish Premiership in addition to all the football action from the FA Cup. In order to explore the features of Sun+ Goals, you need to be a member of Sun+ Goals. Here's a list of features that are available with this football smartphone app:
Both, half-time and full-time extended football match highlights
Exclusive video highlights from the renowned football leagues
Alerts for your favorite football team's match
Behind-the-scenes drama in football matches and many more.
Sun+ Goals is compatible with Android and iOS mobile platforms.
Conclusion
If you're a die-hard Football fan and don't want to miss any action then installing the above smartphone apps is definitely going to hone your passion for the same. If you truly enjoy Football, these apps will definitely empower your love and passion for the game.
Have you been using any of these Football smartphone apps in your phone? If yes, please share your experiences using the comments box below. Also, don't forget to drop in your feedback/suggestions for my post.