Blue screen errors are very common and when they occur, they are really bothering. In fact they are easy to fix but only when you know that error name or code. Here we will talk about blue screen error 0x000007e and its fix.
There are a number of solutions for the bug. You can use these methods try to fix the problem. After a lot of research I have chosen the easiest of them for you.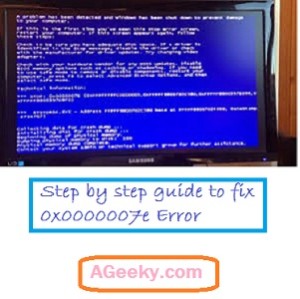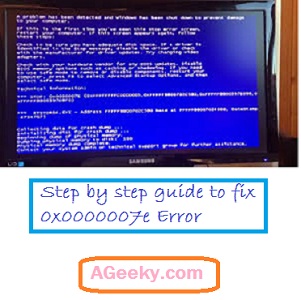 Quick guide to fix 0x0000007e:
This error occur when there is something wrong with your hard drive. You can try following steps to solve this bug.
Open your 'My Computer' from your desktop or start menu. You can also use key shortcut Windows (button) + E to directly open the destination. Check if your C drive has at least 10% space. You can also clean some space by going to properties and disk clean. It always a good thing to have some empty space in the pocket as well as your drive.
Use any error checker software to look for any error on your hard disk. You can try any one of them and it is not necessary that you choose a software matching your hard drive model.
Once being done with that, open Command Prompt. You can do this by pressing Windows + R and then type CMD in the run command.
CHKDSK utility will then search and fix the error 0x0000007e on your hard drive.
Check if you have any out dated drivers on your computer. These can cause many errors and 0x000007e is one of them. Most basic and reliable way to update them is doing it by windows updates. Check if there are new updates available and install them.
Using a good driver update utility such as Driver Reviver is another good option. It will tell you about all the out dated drivers and update them for you. It will also tell you the drivers that are causing problems.
Also make sure that your BIOS are working properly. BIOS are the first things that run your computer and how can a device work properly when BIOS are not. Fixing BIOS is a complex issue so contact your hardware manufacturers to help with your problem.
Hope you the things you learned here would help solving your problem.