Nokia Lumia 510 or Samsung Galaxy Ace S5830, Which one is your choice? Nokia Lumia 510, the recent launch from Nokia which was termed as the cheapest handset of the Lumia series while Samsung Galaxy Ace being one of the best selling smartphones from the house of Samsung.
Before you decide who will win the battle, read the comparison between the old giant, Galaxy Ace and new comer Lumia 510.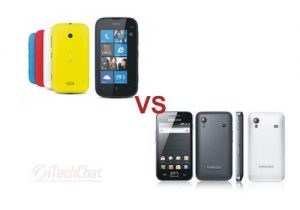 Samsung Galaxy Ace vs Nokia Lumia 510
Dimensions and Weight:
Nokia Lumia 510 measures 120.7 x 64.9 x 11.5 mm and weighs 129 g while the Samsung Galaxy Ace has similar measurements (112.4 x 59.9 x 11.5 mm) and weighs 113 g. Seeing this, we can clearly say that the Samsung Galaxy Ace S5830 is smaller than the Lumia 510.
Display:
The Nokia Lumia 510 comes with a 4 inch capacitive touchscreen operating at a resolution of 800 x 480 pixels where as the Samsung Galaxy Ace has a 3.5 inch capacitive display (320 x 480 pixels) .
Processor:
The Lumia 510 is equipped with a 800 MHz Snapdragon S1 processor while the
Samsung Galaxy ace comes with a 800 MHz ARM 11 Qualcomm MSM7227 processor.
Camera:
Both the smartphones are fitted with a 5 Megapixels auto focus camera but the
disadvantage with Lumia 510 is that it lacks flash.
OS:
Lumia 510 runs on Windows phone 7.5 (Mango) OS (upgradable to 7.8 in near future) where as Samsung Galaxy Ace runs on Android v2.3. However android lovers will not think twice when they are required to choose between the two.
Memory:
Here the Galaxy Ace has an edge over Lumia having an internal memory of 158 MB (278 MB RAM) that is expandable upto 32 GB using a microSD card while the Lumia 510 has 4 GB internal memory (256 MB RAM) leaving no room to expand.
Connectivity:
Both Samsung Galaxy Ace and Nokia Lumia 510 has many connectivity options like WiFi, Bluetooth, 3G, micro USB, GPS with A-GPS support and a 3.5 mm audio jack. Samsung Galaxy Ace adds up the DLNA feature where as Lumia 510 lacks it.
Battery Backup:
Nokia Lumia 510 has a Standard Li-Ion 1300 mAh battery giving
Upto 739 h (2G) / 653 h (3G) standby time
Upto 6 h 15 min (2G) / 8 h 25 min (3G) talktime
where as Samsung Galaxy Ace is equipped with a Li-Ion 1350 mAh battery giving
Upto 640 h (2G) / 420 h (3G) standby time
Upto 11 h (2G) / 6 h 30 min (3G) talktime
Also the Nokia Lumia 510 comes in White, Cyan, Black, Red and Yellow colours but when it comes to the Galaxy Ace, choice is limited to only Black and White.
Conclusion:
Nokia Lumia 510 being a brand new handset has some uniqueness in it where as the Samsung Galaxy Ace, as you all know, is a good handset with an excellent track record.
Over to you!
If you were given a choice to choose from the two, which one would it be?
Comments are appreciated!!!